Nikkiso Expander Application Technique (NEAT) designs and produces a complete range of superior quality, turboexpander products ensuring customer satisfaction.
Turboexpander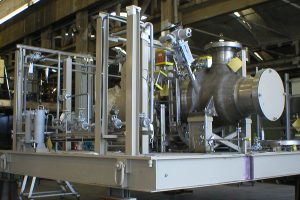 Nikkiso offers complete design and manufacturing of Turboexpander packages, auxiliary systems, PLC-based control systems, and other related equipment for the petrochemical, power generation, and air separation industries.
Located in Southern California, USA, Nikkiso specializes in the production, repair, and service of Turbo-Machinery, especially Turboexpanders for the Oil & Gas, Power Generation, Air Separation industries, and Energy Recovery Systems.
With a total of over 200 man-years of experience in Turboexpanders, our highly experienced engineering and manufacturing teams, employing innovative development and fabrication techniques coupled with state-of-the-art measurement and machine tools, have made us an acknowledged global leader in turboexpander solutions with unmatched efficiency and stellar reliability.